Uninsured. Underinsured. What's the Difference?
Insurance. It sometimes can feel like a benefit for which we pay faithfully, but hope we never have to use. Seems a little odd, right? Yet, there are many drivers out there who are operating with minimal coverage, or in some cases, none at all. This is where your policy can really come through for you. My question is, how well do you understand this coverage? Uninsured – Underinsured – What's the difference anyway?
Uninsured – Not covered by insurance
It is hard to comprehend, but there are people out there driving a vehicle without any coverage at all. This is the population that you are safeguarding against when you purchase Uninsured Motorist Protection as part of your auto insurance policy. You are doing what you can to protect your health and property in the event you are in an accident with someone who lacks coverage.
What does this insurance cover? Depending on your insurance carrier's offerings and what you elect to include, you might be covered for:
Medical expenses for you and your passengers
Lost wages
Property damage
Underinsured – Insufficient insurance
There are drivers out there who do have coverage, but it may not be enough to pay for the damages resulting from an accident which they have been involved in. This does not mean they are doing anything wrong. Simply put, they may have elected to carry the minimum coverage amount required by the state. Unfortunately, depending on the magnitude of the accident, the financial impact to you may be just as bad as if they did not have any coverage at all!
This is where your policy steps in.
Common auto insurance policies include coverage for property damage and medical bills, with elective options that allow for rental vehicles, towing, and more. Uninsured Motorist Coverage and Underinsured Motorist Coverage are two possible policy add-ons that protect you when you are involved in an accident with someone who is not properly covered. However, this coverage is not available in all states, so be sure to speak with an agent to understand your options.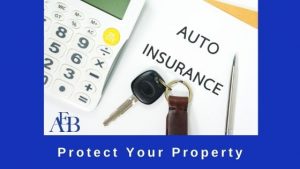 Protect your health, passengers, and property by adding this important coverage to your policy. And always be sure to properly report your accident to ensure there is a formal record of the incident. Accidents are scary and often inconvenient but being prepared will help you minimize the stress as you navigate the recovery process.
Now that we have defined the difference between Uninsured and Underinsured Motorists, let's find out what that means to your bottom line.
Join us next month as we keep this important topic going and dig into how your Underinsured Motorist Coverage really works, and how your policy will take care of you.
Have you been in an accident with someone whose coverage just wasn't there? Contact the team at the Law Office of Adriana E Baudry to discuss the details and learn about your options. We are here to help.