Raise your Voice and Vote!
If you watch TV, listen to live radio, or tune into social media, you've been hearing a lot of political campaign messages. The 2020 election is rapidly approaching, and now is the time to raise your voice and vote. But… you may be wondering if your vote will make a difference.
Yes! Your input matters.
Here in the United States, we are fortunate enough to have the right to vote, to share our opinions, and to weigh in on decisions that are critical to the operation of our local and federal government. Through our education and engagement, we determine which policies and people will help our country grow and progress.
What is a Vote, anyway? According to the Merriam-Webster dictionary, a Vote is the "formal expression of opinion or will in response to a proposed decision". Similarly, Voice can be defined as the "choice or opinion openly or formally expressed". No matter which term you choose, both indicate our ability to have our opinion counted.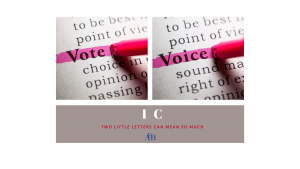 Since 1789, the prospect of voting has been discussed and elaborated on – with our individual rights continuing to grow with each landmark decision.1  Here are just a few of the momentous decisions that have influenced our voting rights.
1789 – The US Constitution granted states the power to set voting rights
1790 – Naturalization Act of 1790 granted voting and citizenship rights to white males born outside the US
1869 – Wyoming is the first state to grant women the right to vote
1870 –15th Amendment grants freed slaves the right to vote
1920 – 19th Amendment grants women the right to vote in all US states
1924 – All Native Americans gain citizenship and their voting rights
1961-1964 – Electoral voting system is established
1965 – Voting Rights Act of 1965 was put in place to protect the rights of racial minorities
1971 – 26th Amendment granted voting rights to those between the ages of 18 and 21
1986 – US Military personnel stationed outside the US gained the right to vote
Over time, and with greater access to media, political campaigns have grown in impact and influence. It seems like we can't go a single day in the months leading up to any election, without hearing about a candidate's platform. Some messages are more informative than others; and some will resonate more with each of us, personally. This is the beauty of the individual vote… we get to decide what we agree with and support!
While we each may be one voice in a sea of 331 million people2, together, we CAN and DO make a difference. In tight races where candidates or topics are equally supported, one vote can determine which one emerges victorious. If you don't engage, you are missing out on the chance to be a true determining voice. No matter which position you support or which candidates you choose, you are not alone.
Learn more about voter's registration guidelines around our nation. If you are in New Jersey, be sure to register by October 13th!
The team at the Law Office of Adriana E. Baudry LLC stands proudly at your side, as we raise our collective voices, Vote, and make a difference.