On a Personal Note…
Summer is starting to wind down. Days are getting just a bit shorter. Halloween candy is hitting the store shelves. Kids are getting ready to go back to school. On a personal note… one of my sons has accomplished a major milestone in his military career, while the other one prepares to get back to his law school studies. So many amazing things are happening every day.
About My Career
I knew from my early childhood that I wanted to be an attorney. While other kids were playing kickball and dress up, I was organizing my friends into a game of 'Advocate' where we played out make-believe court cases. We would take turns speaking on behalf of each other, and figuring out who did it best! It was never about acting a part, and all about making compelling (and sometimes loud!) arguments. 
My journey started when my family moved from Uruguay to the United States, in search of the amazing dreams afforded by this wonderful country. I grew up watching my father work long hours – building his success one step at a time. We were grateful for every opportunity that came our way. I studied hard and carefully created my plan to become an attorney. 
"I Did It!"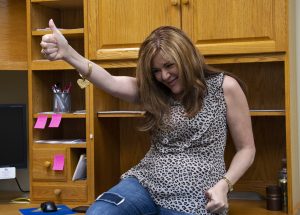 In 1990 I graduated from Rutgers School of Law and started my justice career journey. Make no mistake… there were ups and downs. Those student loans were painful! Yet, I knew there was so much ahead of me. I was realizing my childhood dream of becoming a true Advocate, and helping my clients navigate their challenging life situations. My career took off from there…
✅  Personal Injury cases
✅  Healthcare Malpractice Suits
✅  Construction Claims
✅  Deputy Attorney General

Then, in 2018, I realized yet another dream… I opened my own practice! Welcome to the Law Office of Adriana E Baudry. This was yet another testament harkening back to the opportunities brought about because of our move to New Jersey. The path had been filled with long days and countless hours, but I could happily see the fruits of my parents' many sacrifices. 
Through my practice, I get to help others achieve their dreams when we successfully close on the purchase of their home. It warms my heart to see the broad smiles and tears of happiness as someone gets their brand new keys… or prepares to start the next exciting chapter of their own journey. It's more than just real estate, though. I am equally blessed when I help someone navigate their business contracts, personal injury settlements, or other major life events. Giving back to others is what makes these long days worth it!
And on Another Personal Note…
There is nothing quite as rewarding as being part of my family's journey. Watching my son earn his wings in the Air Force. Debating legal scenarios with my husband as he prepares for his court cases. Cracking open the books with my other son as he continues to learn his legal craft, while he puts into practice the things he has learned while working alongside me. To quote a line from the movie Hope Floats, "my cup runneth over".
Each and every day I am reminded of the wonderful opportunities that have graced my life. 
Looking ahead, I know the best is yet to come… 
Care to share your story? Need help on the next step in your personal journey? Contact the team at the Law Office of Adriana E Baudry. We are here to help.